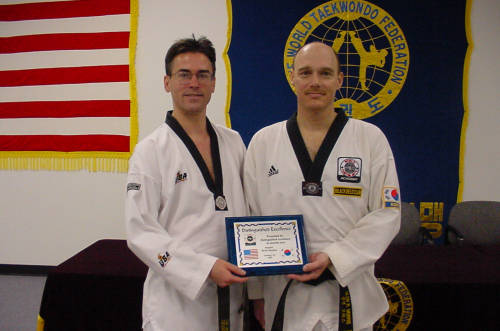 Master Rigdon presenting Glen with
the Distinguished Excellence award
Glen is pictured here (center) for an autograph signing by Master Rigdon (left) and Grand Master Young Chul Rho (right) for their cover and featured articles in the December 1995 issue of Tae Kwon Do Times.
I am used to wearing uniforms, whether it is a Do Bok or the one below. When I'm not playing webmaster, I earn my living flying as an Air Line Pilot flying First Officer on a MD80 for American Airlines. Below are pictures of me in the McDonnell Douglas MD80 aircraft when I few Captain for TWA & American Airlines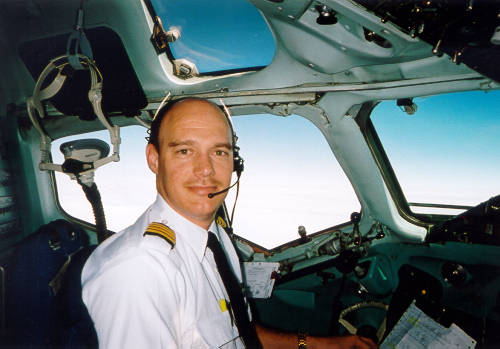 Cruising at 35,000 feet somewhere over America on a sunny day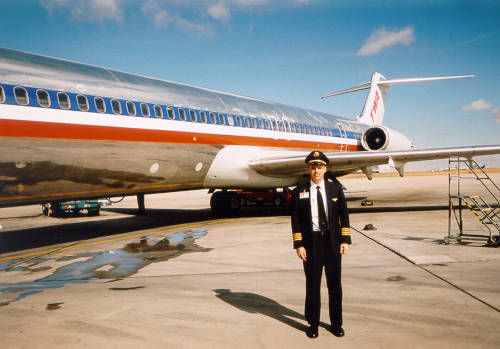 On the ground At Denver, CO next to the new
combined American Airlines - TWA paint job.

MR. GLEN MORRIS
3rd Degree Black Belt
13 Years Training Experience

Outstanding Black Belt, Distinguished Excellence, Outstanding Leadership, Special Recognition award recipient

Other Interests: Computers, Golf, Aviation, and Motorcycles
Visit the World Martial Arts Academy Website to learn more about Taekwondo!
When I'm not flying or teaching Taekwondo, you can either find me sitting on my motorcycle or behind my computer. I have a 2002 Candy Red Honda VTX Retro. It has a V-twin engine that is 1800cc's or 1.8 Liters. This is the same size engine as a Toyota Corolla and considering my motorcycle only weighs 750 lbs, it goes like a scalded dog! If you want to learn more about the Honda VTX, you can visit the Honda VTX owners website.

There is no better way to relax and forget about the day's problems than getting out on a nice day and cruising down some twisty road. There is a saying that "you meet the nicest people on motorcycles" and I have found that to be true.
My favorite motorcycle trip is the times I have spent a week riding in the Smoky Mountains while attending the Honda Hoot which is held each year in Knoxville, TN. The highlight of the trip is "Riding the Dragon" located on Highway 129 which is also called Deal's Gap.

The Dragon has 318 curves in 11 miles! There is no bigger rush than "turning and burning" down the Dragon with your foot pegs dragging on the pavement because the turns are so sharp! There are so many curves that you are constantly turning for 11 miles! You can see a map here and learn much more about it at the Tail of the Dragon website.
I took eight months to go back to school at New Horizons Computer Learning Center after getting furloughed from American Airlines. I enjoyed attending professional computer training to improve my computer knowledge to a professional level. In those eight months, I earned my A+, Network+ and Security+ certification from CompTIA and my MCSA certification from Microsoft on Windows 2000.
| | | | | |
| --- | --- | --- | --- | --- |
| | | | | |
Click here to view the Kuryakyn ISO Grips Honda VTX Install Advice
Click here to view the "Class of 1984" 25 Year Reunion Pictures
Click here to view the "Class of 1984" 20 Year Reunion Pictures
Click here to view the GXRA Motorcycle Pictures
Click here to view the CMSU Aviation Reunion Pictures

View the Online Photography exhibit and Portfolio of Terry Anderson